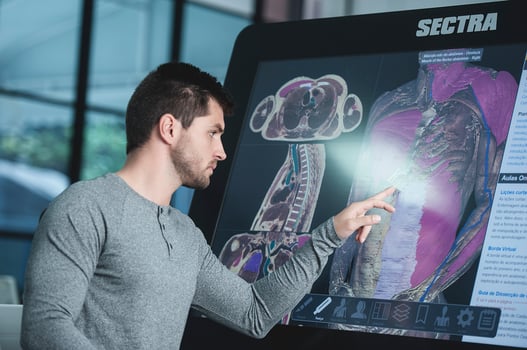 Technology is one of the pillars responsible for advances in the area of ​​Health. It projects Medicine to levels never before imagined. This increase in multidisciplinary solutions acts positively and directly in the safety of medical practice, providing quality and precision to diagnostic and therapeutic approaches.
Automation tools, Artificial Intelligence platforms, Big Data and the Internet of Things strongly enhance the way medicine is applied today. These technologies impact from the academy, forming highly trained professionals, to the prevention and treatment of diseases.
An example of high-tech equipment in the healthcare area, a reference in 47 countries, is the Sectra interactive table – developed by the company Tecnosimbra. It is an interactive and multidisciplinary platform that offers the best 3D reconstruction from computed tomography or magnetic resonance imaging. Powerful visualization tool, allows students to be more prepared in different procedures, with quality and assertiveness.
The  Unigranrio  is the  ONLY  private university in Rio de Janeiro have the  interactive table Sectra , the most modern tool for diagnostic imaging and viewing education in the field of medicine.
The table provides our medical students with a detailed view of organs, muscles and tissues. You can zoom in, adjust, tilt, rotate and even cut out parts of the figure. With the equipment, the student can also perform, for example, virtual dissections and autopsies generated from images of a real body.
It is for this and other reasons that Unigranrio is a reference in the area of ​​Health!